Okay, I've told a few people here a little about the history of my car and said that this post was coming. So here it is. My Dad, Joe Barbera, was a very big Mini fan. Owned British cars his whole life, even though he spent his entire professional career as a VW executive! His first car was a Lotus 7 and when he passed away 2 years ago he had a '73 Europa, '08 Elise a '67 Moke and this Mini. Through the years his heart probably belonged to the Countryman he had before I was even born. It had been in an accident and was in pieces awaiting repair for decades. The wood trim was in our living room for years, until a move when he left the car with his brother, who proceeded to sell it!
Anyway, like most here I would assume, his dream had always been to get his hands on a Works car. And in the late '90s while living in Singapore he thought he had finally tracked one down. He got it in Australia or New Zealand, brought it back to Singapore and proceeded to spend a small fortune restoring it. He was fanatical about keeping it as original as possible. We did a good bit of the bodywork together and one of the worst fights we ever had was when, while grinding the engine bay, I accidentally zipped off a few grommets. Where was he going to find 1964 grommets to replace them!!
When he passed away, his friends and I all knew that one of us had to end up with the Mini. The Lotuses were just for fun but the Mini was his true love.
So, I kept it, got it running again and have slowly been finding the history of the car and some of the more unusual parts. Most of you have seen the knock-off wheels I posted and there was also the aluminum bonnet that turns out to have been off of the car the John Tomlin built and Rob Selby raced in '95-96 (rob, if you see this, where are those pictures?
) among other unique items he had collected over the years.
But always there was the car itself. He had always said it was a Works car and that it had been raced. I never found any evidence in his belongings. He wasn't the most organized of men. I was lucky just to find the title! And his friends don't know what proof he had either. The only other man who probably knew was Dave Gilbert. He and my Dad were close and spoke often. My Dad visited Dave just a couple of weeks before David passed away. But now with David and my Dad gone there is no easy answer.
I got the Hertige, talked to Simon and actually found a great tidbit that told us something definitive. Here's what I know:
Car/Chassis # - C-A2S7/384103
Engine # - 9F-SA-H/19204 (engine is a little later than the car, my Dad picked it up in the late 90's)
Body # - 13847
Spec - RHD/Home Market
Date of build - 7 March 1963
Date of Despatch - 9 September 1964
Destination - Austin Motor Company
Build record states 'works car, sold second hand 9 September 1964'. The recorded registration mark 289 JOB was issued in Birmingham.
Colors Old English White with black roof
As a note, Paddy Hopkirk raced 288 JOB as his personal car.
From here I heard from Simon Wheatcroft that in terms of chassis # this was the third Austin Coopr S. it was used by Austin Motor Co publicity department before being sold on. But while the history of the first 2 Austins( 731 and 732 HOP) and the second Morris (484 RFC) were well known he just wasn't sure how this car had been used. A bit of digging by me turned up this:
And I have a feeling that this is likely my car, too: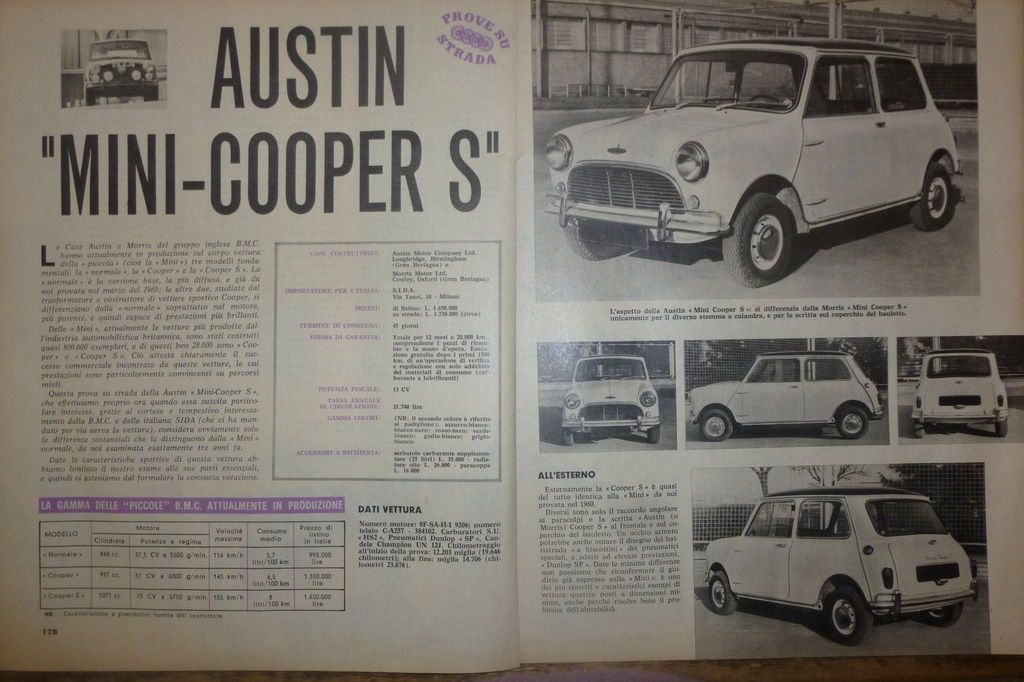 But with the 60's Birmingham records being destroyed there is no way to figure out where the car went when it left Austin. And yet I have reason to believe Dave and my father did find something. So, I come before you today to ask that anyone who may know something or may be able to find something, let's see if we can put some more history to this car!
Thanks,
Zach